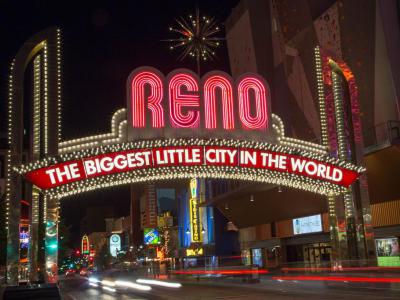 Reno Arch, Reno
The Reno Arch is an iconic and beloved landmark that stretches across Virginia Street at the intersection with Commercial Row. As a significant symbol of the city, the arch holds historical and cultural significance. It is currently owned and operated by the City of Reno, ensuring its preservation and prominence for generations to come.

The Reno Arch has undergone a series of transformations throughout its existence. The original arch was constructed on October 23, 1926, with the purpose of commemorating the completion of the Lincoln and Victory Highways. This initial version stood proudly as a testament to the city's growth and development during that era.

However, as time progressed and the city evolved, a new arch was installed on August 8, 1987. This updated rendition brought a fresh and contemporary aesthetic to the landmark. On November 17, 2009, the arch received a retrofit with new lights, enhancing its visual appeal and ensuring its vibrant illumination.

One of the notable changes to the Reno Arch occurred on May 3, 2018, when its design scheme was revised to incorporate the colors blue and silver. This alteration added a modern touch while retaining the arch's historical legacy. The blue and silver design harmoniously represents the spirit of Reno, reflecting its vibrant energy and connection to the surrounding landscape.

The Reno Arch proudly stands as a prominent feature of downtown Reno, captivating visitors and locals alike. Throughout its history, it has been adorned with the city's motto, "The Biggest Little City in the World." This phrase encapsulates Reno's unique identity as a city that combines big-city amenities with a small-town charm, making it a remarkable destination for entertainment, recreation, and cultural experiences.
Walking Tours in Reno, Nevada