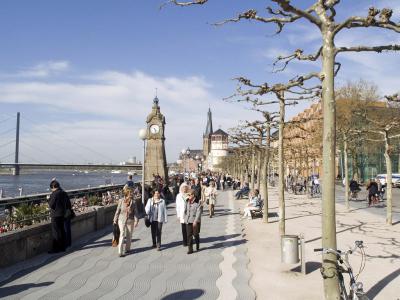 Rheinuferpromenade (Rhine Embankment Promenade), Dusseldorf
(must see)
The Rhine Embankment Promenade was designed by Architect Niklaus Fritschi and built between 1990 and 1997. This riverside promenade is popular with residents and visitors alike and is considered the Rhine's most attractive promenade. Visitors can enjoy the river views and breezes or stop for a cafe beverage or treat.

The promenade was originally built around 1900 and featured two levels. The lower level was used by shipping traffic, and the upper level was used as a promenade. The Rhine River's bank was redesigned after World War II, and a multi-lane street was constructed.

Road traffic used to run parallel to the river, but the Rhine bank tunnel was completed in the 1990s. This new infrastructure means that traffic runs underground. Pedestrians can now enjoy walking or biking along the promenade without road traffic. One million visitors celebrated the promenade's opening in 1995.

There are many historic and landmark buildings on the promenade. In addition, visitors can access the Dusseldorf Art Academy, the maritime museum, the state parliament, and the Apollo Variete.

The promenade hosts several Rhine boat tour operators, where you can enjoy seeing the city from another perspective. The promenade's staircase is a popular spot for people-watching and sunbathing.

The promenade hosts almost 300 cafes, bars, restaurants, and discos. Most of these venues are connected, so you can hop along the row and enjoy non-stop entertainment and fun. Promenade bars serve Dussedorf's favorite brew, the Altbier. Be sure to order one to get a true taste of Dusseldorf.

The promenade hosts festivals and events throughout the year. For example, visitors might catch an exhibition, open-air movie screening, or festive market.

The promenade is a fantastic place to watch the sunset from. The city's lights start to come on and are beautifully reflected in the water.
Rheinuferpromenade (Rhine Embankment Promenade) on Map
Walking Tours in Dusseldorf, Germany