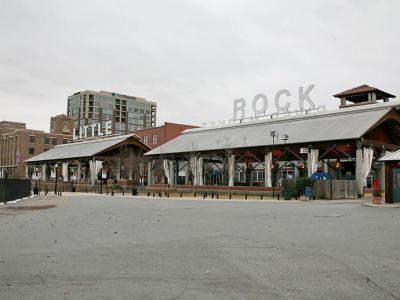 River Market, Little Rock
(must see)
If you are looking for a fun-filled, exciting atmosphere, take a trip to the River Market. Visitors will find amazing food, live music, beautiful plants, and many shops to purchase unique items from. The types of food found here are American, Indian, Japanese, Thai, burgers, pizza, Middle Eastern, pasta, and bakery items.

The River Market is located in downtown Little Rock and is a quick walk or ride from any of the hotels surrounding the downtown area. It hosts many festivals and fun events throughout the year, such as The Little Rock Marathon, Jazz in the Park, The Arkansas Literary Festival, the Little Rock Farmers' Market, World Cheese Dip Championship, Movies in the Park, the Susan G. Komen Race for the Cure, and more. Every second Friday evening of the month, the River Market also holds an Art Night event in which visitors can view incredible art pieces created by local artists.

Admission to visit the River Market is free.

Why You Should Visit:
Listen to live music, and to try a variety of different foods. To relax and enjoy a peaceful view of the Arkansas River. To have an exciting night out at the countless bars, restaurants, and pubs.
Walking Tours in Little Rock, Arkansas