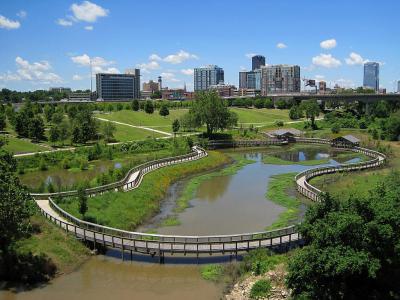 Riverfront Park, Little Rock
The Riverfront Park is claimed to be one of the finest public parks in the United States. It extends across eleven blocks alongside the Arkansas River in the downtown area of Little Rock. Visitors will have access to over 30 acres of land to partake in outdoor activities, get some fresh air, let their little ones run free, and learn about Arkansas' history.

A few of the remarkable features of this park are the Clinton Presidential Park Bridge, Little Rock Civil War Marker, Riverfront Park History Pavilion, William E. "Bill" Clark Presidential Park Wetlands, La Petit Roche Plaza, the Medical Mile, Vogel Schwartz Sculpture Garden, Witt Stephens Jr. Central Arkansas Nature Center, and much more. Each of these attractions are worth taking a stroll through the park to see.

If you are looking to spend a day outdoors, the Riverfront Park is an excellent place to visit. There are many trails, playgrounds, and historical objects throughout the park. It also offers a quiet and peaceful atmosphere overlooking the river.
Walking Tours in Little Rock, Arkansas