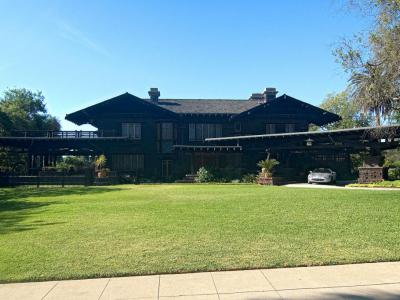 Robert R. Blacker House ("Back to the Future" Movie Site), Pasadena
The Robert R. Blacker House, also known as the Blacker House or Robert Roe Blacker House in Pasadena, enjoys status on the National Register of Historic Places. This unique home was constructed in 1907, and each part of the home features custom designs. A major restoration took place between 1994 and 1999.

Some of the highlights of the home's construction include Douglas fir and California redwood. The design used for this home incorporates many of the elements used in Japanese homes. Some of the key features include windows that allow for natural lighting and a cross-ventilation layout that allows more cool air in.

The Blacker House has a claim to fame because of its use in the Back to the Future movies. In the movies, the house provided the interior shots for scenes that took place in Doc's house. Even though many of the interior items seen did not survive the renovation, visitors may still tour the grounds.

This house is worth visiting to see the grounds and appreciate the artistry that went into its construction.
Robert R. Blacker House ("Back to the Future" Movie Site) on Map
Walking Tours in Pasadena, California