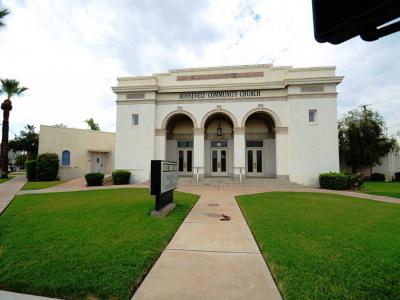 Roosevelt Community Church, Phoenix
Roosevelt Community Church is a historic church. Established in 1893, the church has been a fixture of the local community for over a century, providing a welcoming and inclusive space for worship, fellowship, and community building.

The church's architecture is a testament to its rich history, featuring a beautiful red brick exterior, intricate stained glass windows, and a distinctive bell tower. Inside, the church is equally impressive, with a soaring nave, a beautiful pipe organ, and a warm and inviting atmosphere.

Beyond its religious services, Roosevelt Community Church is also a hub for community events and social justice activism. The church hosts a variety of community programs, including a food bank, a community garden, and a social justice ministry that advocates for the rights of marginalized communities.

Overall, Roosevelt Community Church is a beloved institution in Phoenix's downtown community, known for its welcoming spirit, rich history, and commitment to social justice. Whether you're seeking spiritual nourishment, a sense of community, or an opportunity to give back, Roosevelt Community Church offers something for everyone.
Roosevelt Community Church on Map
Walking Tours in Phoenix, Arizona