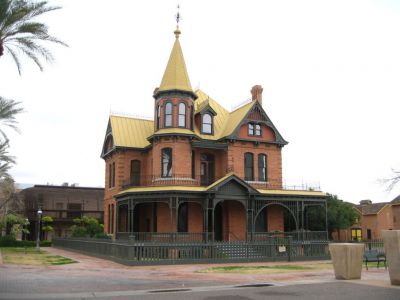 Rosson House Museum, Phoenix
(must see)
The Rosson House Museum is a beautiful example of Eastlake Victorian architecture. The house was built in 1895 for Dr. Rosson and his wife. This interesting house has a moon gate that gives it an oriental flavor, and a tower in the shape of an octagon that is usually attributed to French design. The home is built from locally produced red brick and wood. Although not the first home to be built of fired brick rather than adobe, it is still a great example of early workmanship.

This house had all the modern conveniences that included electric lights, indoor plumbing for both hot and cold water and upstairs bathroom facilities. There were gas appliances and telephone service. Today, this house has been lovingly restored to its former glory and docent guided tours will give a real feel for how life was at the turn of the 20th century for Dr. and Mrs. Rosson.

The home is located in the Historic Heritage Square District. Tickets for the docent lead tours can be purchased next door at the Emporium. Tours are conducted Wednesday through Saturday from 10am to 5pm and Sundays from noon to 5pm.
Rosson House Museum on Map
Walking Tours in Phoenix, Arizona