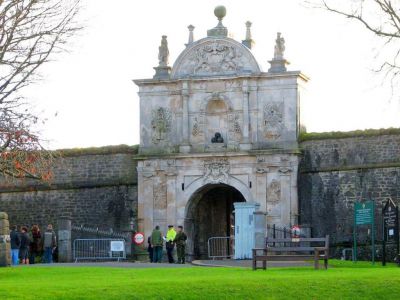 Royal Citadel, Plymouth
(must see)
The Royal Citadel of Plymouth, in England, was designed in the late 1660s by military architect Sir Bernard de Gomme. It is located at the east end of Plymouth Hoe, an open land above the limestone cliffs bordering the harbor. It sits on the site of an earlier fort built during the era of Elizabeth I and Sir Francis Drake.

After the defeat of the Spanish Armada, Francis Drake was appointed to perfect the defenses of Plymouth. He built a fort on Plymouth Hoe to command the approaches to Plymouth Harbor. Drake's fort was finished in 1596. It had two bastions, batteries, and a blockhouse dating from 1540.

In the reign of Charles II, during the Dutch Wars of 1664 to 1667, Sir Bernard de Gomme built his fort, encompassing parts of the earlier Tudor construction. The Citadel is mainly of limestone with English Baroque gateways of Portland stone. The walls were as high as 70 feet and equipped with 113 guns.

During Victorian times, the Citadel served as a training facility for the Royal Garrison Artillery. During World War II, the Coast Artillery School made its home there. The Royal Citadel still serves a military purpose for the Royal Artillery and the Royal Marines. Guided tours are occasionally available.
Walking Tours in Plymouth, England