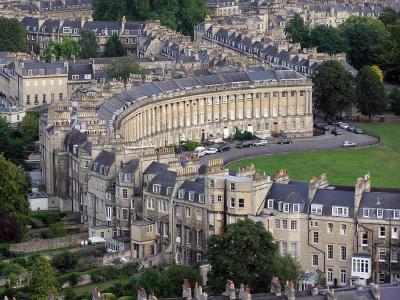 Royal Crescent, Bath
(must see)
Just down Brock Street from The Circus lies the Royal Crescent. This moon-shaped semicircular row of houses faces a sprawling lawn. The Crescent was built from 1767 to 1774 by John Wood, the Younger, who also completed The Circus. The Crescent is 500 feet long and contains 114 Ionic columns and many other decorative and distinctive moldings.

The buildings were originally only known as The Crescent, but "Royal" was added in the 18th century with Prince Frederick, Duke of York and Albany stayed here.

The original design called for 30 equally-sized townhouses, or terraced houses. Today, 18 have been split into various sized flats.

Why You Should Visit

The Royal Crescent is a Grade I listed building. The stone facades of the houses appear much as they did when they were made.

The Crescent provides one of the most stunning views of Georgian architecture that Bath has to offer. With this captivating view of the greenspaces and The Circus in the distance, the Crescent was the first terraced houses built as "rue in urbe" or the country in the city.

Tips

If you'd like to see these buildings more up close, check out the Royal Crescent Hotel & Spa, located in No. 16.

No. 1 Royal Cresent is a museum. Here you'll find it preserved as a historic house, with rooms, furniture, pictures, and other items depicting Georgian life between 1776 and 1796. Among the fully furnished and appointed rooms you can tour, there is a Parlour, a Gentleman's Retreat, a Withdrawing Room, Servant's Hall, Kitchen, and Scullery.

Many plaques commemorate the notable and famous people who have stayed in the Crescent.
Walking Tours in Bath, England