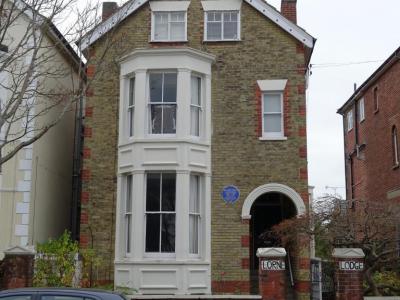 Rudyard Kipling's Childhood Residence, Portsmouth
"My first impression," Kipling wrote in his autobiography, "is of daybreak, light and color and golden and purple fruits." Kipling was born in Bombay (Mumbai), India, in 1865. His father, John Lockwood Kipling, was an architect and artist. His mother was Alice MacDonald, a familiar of Sir Edward Burne-Jones and the Pre-Raphaelites, a group of English painters, poets, and art critics.

In 1871, he and his sister, Beatrice, called "Trix," were sent back to England. Rudyard and Beatrice were placed in the care of Mrs. Holloway, a widow of a merchant navy captain. The Kipling children later called the place the "House of Desolation."

It was an early childhood in hell, apparently. Rudyard recalled being bullied and beaten by the sadistic widow Holloway and her nasty son. He reports being "well beaten" and sent to school in the streets of Southsea with a card saying "LIAR" attached to his shoulders.

He did have some happy intervals at the home of his aunt, Lady Burne-Jones. The Burne-Jones' house, "the Grange," was frequented by artists and creative friends of Sir Edward. Soon "the delicious dream would end," Kipling wrote, and they would return to the "House of Desolation."

Kipling attended the United Services College in Devon in 1878. In 1882, at 18 years old, he left England for India to reunite with his family. In India, his career as a journalist would begin.
Rudyard Kipling's Childhood Residence on Map
Walking Tours in Portsmouth, England