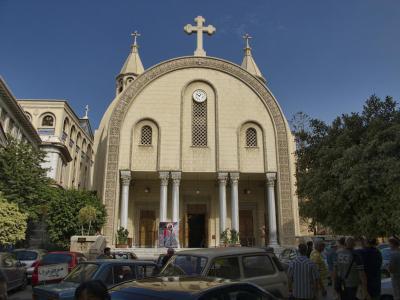 Saint Mark Coptic Orthodox Cathedral, Alexandria
Saint Mark's Coptic Orthodox Cathedral is the historical seat of the Pope of Alexandria, the head of the Coptic Orthodox Church. The cathedral is said to stand on the site of the church founded by St. Mark the Evangelist in AD 60. Mark converted many to Christianity and performed many miracles, he is considered the founder of the church in Alexandria and the first Bishop of Alexandria.

In the time of Pope Yusab II, the church building was pulled down and another, larger building was built with reinforced concrete after the basilique style. The six marble pillars were transferred into the outer entrance of the church. The icon carrier was accurately cut into parts, each part given a number, and then it was cautiously returned to where it was originally. The two minarets were not pulled down as they were reinforced with concrete and were decorated with beautiful Coptic engravings. Two new bells – brought from Italy – were provided, one for each minaret. Between 1985 and 1990 the church was widened from the western side after the former style with great accuracy, keeping the two minarets in their places, so the entire area of the church was doubled. The six pillars were transferred to the new western entrance of the church supervised by Pope Shenouda III.
Sight description based on Wikipedia.
Saint Mark Coptic Orthodox Cathedral on Map
Walking Tours in Alexandria, Egypt