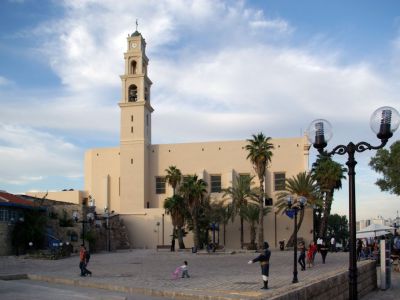 Saint Peter's Church, Tel Aviv
With its tall brick façade and towering bell tower, Saint Peter's Church is the single largest and most distinctive building in Old Jaffa. Ideally located with a view of the coastline, it was twice destroyed and consequently twice rebuilt, its current structure having been erected between 1888-94 and most recently renovated in 1903. Unlike the majority of churches which face East, this one faces West towards the sea, as that is where Peter has his first vision to evangelize the Gentiles.

The interior is reminiscent of cathedrals in Europe, with a high vaulted ceiling, Munich-manufactured stained glass, and marble walls. The four panels in the interior depict episodes from the life of Saint Peter, including the miraculous catch of fishes, the giving of the keys, the transfiguration of Jesus on Mount Tabor and the washing of the feet at the Last Supper. With the exception of depictions of Tabitha, Francis of Assisi, and the Immaculate Conception, all of the other windows in the church depict Spanish saints, which is unsurprising since the present building was erected by the Spanish Empire. Also of note is the pulpit which is carved in the shape of a lifelike tree.

Mass is said in multiple languages as listed on the exterior wall. As with all religious sites, be mindful of dress codes and always respect the silence during mass or at any time.
Saint Peter's Church on Map
Walking Tours in Tel Aviv, Israel