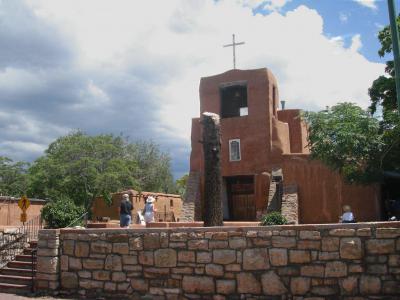 San Miguel Mission (Oldest Church in the US), Santa Fe
(must see)
Originally built around 1610 by Franciscan friars, the Mision de San Miguel is the oldest church in the United States and one of the oldest structures. It was the first church built in Santa Fe. The Spanish missionaries located the facility across the river in an area primarily inhabited by native people. Missionary work was a priority for the Spanish settlers, so they built the mission building before building their own church closer to the Plaza.

The San Miguel Mission has been rebuilt several times, so it is unclear precisely what extent of the mission is original. It is an adobe structure with clay walls that are about five feet thick. The stone buttresses were added in 1887 to help support the structure. The original church was likely slightly smaller, and while it has been rebuilt and updated from time to time, it remains on the same foundations.

Why You Should Visit

Besides the church's beautiful architecture and historical significance, the building houses several pieces of artwork and history worth a visit. The reredos are wooded altar screens that date back to 1798. Between the screens, you'll see a wooden statue of St. Michael the Archangel, which came from Mexico in 1709 and has been in place here since at least 1776. There are many other paintings surrounding the reredos. You'll also find the original bell that hung in the tower before 1872. The bell's engraving indicates that it is from 1356, but historians think this is highly unlikely. Most probably, a casting defect changed the eight to appear like a three.

Tips

The church is still in operation and offers Latin Mass at 3:00 p.m. and English Mass at 5:00 p.m. on Sundays. The chapel is open for visitors before and between Masses, and most other days from 10:00 a.m. to 4:00 p.m.
San Miguel Mission (Oldest Church in the US) on Map
Walking Tours in Santa Fe, New Mexico