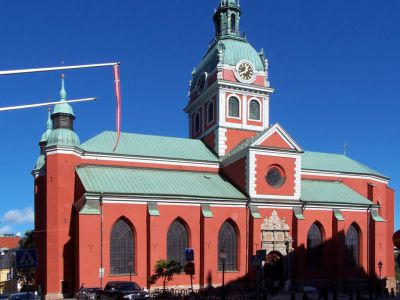 Sankt Jacobs Kyrka (Saint James's Church), Stockholm
Just as many Saint James's churches throughout the world, the Saint James Church of Stockholm (Sankt Jacobs Kyrka) is dedicated to apostle Saint James the Greater, who is also the patron of travelers. This church is often mistakenly referred to as St Jacob's. The confusion arises from the Swedish language which, similarly to some other languages, uses the same name for both James and Jacob.

Arguably, this is the central-most church in the Swedish capital. It is close to numerous attractions, namely: Kungsträdgården park, the Royal Opera, Gustav Adolfs Torg, Sergels Torg, the Royal Palace, and governmental office Rosenbad. Outside, there is a bust of Swedish tenor, Jussi Björling (1911-1960).

The church took centuries to build, and therefore features a variety of styles: Late Gothic, Renaissance and Baroque. At different times, various architects had worked on its design, including Willem Boy (1580–93), Hans Ferster (1635–43), Göran Joshuae Adelcrantz and Carl Hårleman (1723–35), Carl Möller and Agi Lindegren (1893–94).

The original chapel on the site was first mentioned in 1311 as part of the Solna parish (Solna municipality now one of Stockholm suburbs). Together with other churches on the ridges surrounding the medieval city, it was demolished by order of King Gustav Vasa following the Protestant Reformation in 1527.

In 1580, King John III ordered a new church to be built. The construction started in 1588 and by the time of John III's death, a central nave flanked by two tall aisles resting on sandstone columns had been completed. Finished on the outside, the church was inaugurated on November 26, 1643, in the presence of Queen Christina. Still, the interior was only partially completed and a sacristy was added in 1698.

After the fire of 1723 destroyed the roof, a new central tower, designed by Göran Joshuae Adelcrantz, was added in 1739. The exterior was repainted gray-white in the 1770s.

During the 19th century, most of the 17th-century interior was hastily replaced, including both the southern and northern galleries, the retable, and the organ gallery. Complaints from the parish regarding the now dark church, caused the galleries to be rebuilt again in 1825, eventually incorporating central heating in 1850 and the state-of-the-art gas lighting in 1862. Later in the century, the galleries were reshaped once again, into Neo-Baroque, and fitted with electric light. Another exterior restoration took place in 1910 giving the church its new copper roof and sandstone socle.
Sight description based on Wikipedia.
Sankt Jacobs Kyrka (Saint James's Church) on Map
Walking Tours in Stockholm, Sweden
Useful Travel Guides for Planning Your Trip
---