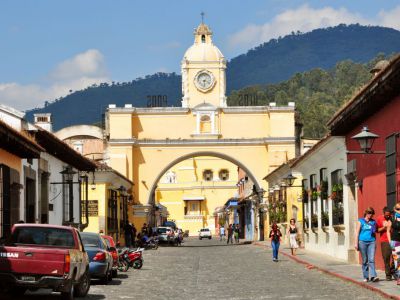 Santa Catalina Arch, Antigua
(must see)
The Santa Catalina Arch is the most iconic landmark in Antigua Guatemala. Built in 1694 and located on 5th Avenue North, it originally connected the Santa Catalina Convent to a school on the other side of the street. At the time the cloistered nuns lived in the Santa Catalina Convent while they taught at the school during the day.

However there was a dilemma. The cloistered nuns had to avoid all contact with the outside world so they could not simply walk across a busy street to reach the school. To solve the problem, an arch above the street was built to connect the convent and the school. Within the arch there is a hidden passageway enabling the nuns to cross the street without being seen in public. It was an ingenious idea that worked perfectly!

The arch has suffered damage over the years, especially during the catastrophic earthquake of 1773. But miraculously, it has survived and it is now a symbol of the city's resilience. A clock was added to the top of the arch in the era of the Central American Federation in the 1830s and it needs to be wound every three days.

Today, the Santa Catalina Arch is the most famous city monument and easily the most photographed.
Santa Catalina Arch on Map
Walking Tours in Antigua, Guatemala