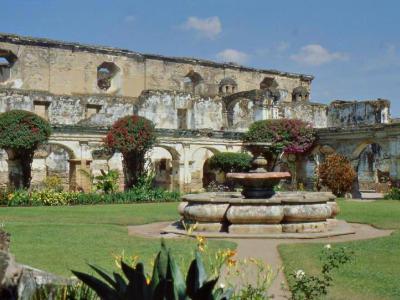 Santa Clara Convent and Church, Antigua
The convent and church, founded in 1699 by nuns from Puebla in Mexico, became a popular place for well-to-do young ladies to take the veil, as the hardships were none too hard, and the nuns quickly earned a reputation by selling bread to high society. The original convent was totally wiped out in 1717, as was the second in 1773, but the current building was spared in 1976 and its amazingly beautiful ornate facade remains intact.

You walk into a smaller garden, wonderfully kept with beautiful plants and flowers, and can have a good look at the place where they had the bread oven originally, walk past the embedded pila (wash house) to the amazing courtyard with its fountain in the middle, then continue to the church with its underground tombs.

Buy a drink, take a picnic, relax and enjoy the beautiful settings inside this convent. The arches, openings, fountain, layers of exposed walls, and volcano in the background are beautiful to photograph.

Tickets cost Q40 for non-nationals and are good value. A tour of the site takes about an hour.
Santa Clara Convent and Church on Map
Walking Tours in Antigua, Guatemala