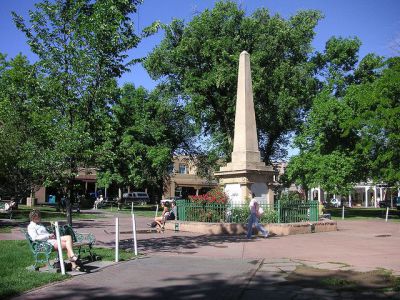 Santa Fe Plaza, Santa Fe
(must see)
The center of Sante Fe's life for more than 400 years, the Plaza is bordered by Washington, Palace, and Lincoln Avenues and San Fransisco Street. It's a meeting place and a shopping center. Throughout the year, you'll find significant events hosted here. There's always something going on—the Plaza is really the heart and soul of the city.

The Plaza itself is a National Historic Landmark; indeed, there's a large marker in the center of the Plaza. But the Plaza is much more important than that. In the tradition of Spanish-American colonial cities, the city was built around the Plaza since around 1610. The original Plaza was built as a fort, surrounded by large walls that enclosed the governor's palace. It served as the social and economic center of town where colonists and Pueblo Indians could trade goods.

The Plaza has also served as the terminus for trade routes over the years. As the center of the city, it only makes sense that roads lead there. Some of those famous roads included El Camino Real from Mexico City and the Santa Fe Trail from Missouri.

Why You Should Visit

It's hard to imagine a trip to Santa Fe without stopping by the Plaza for one reason or another. Many come to see the Palace of the Governors or the historic buildings. Others come to shop and dine. There are also many excellent arts, music, and cultural festivals offered throughout the year that are worth stopping for.

Many of Santa Fe's most significant attractions are walking distance from the Plaza. The Plaza is the perfect spot to use as your base for exploring. You can come back throughout your day, either to relax in the park or to grab a bite to eat.

Tips

Every September, the Plaza hosts the Fiesta de Santa Fe. The Fiesta has been held for more than 300 years. In 1712, the first Fiesta council created a proclamation that there should always be a celebration of the 1692 reconquest of New Mexico by General Don Diego de Vargas. The Fiesta has changed over the years but still includes historical reenactments, Catholic mass services, arts, crafts, food booths, and lots of live music and dancing.

For a closer look at the history of the city and the state, check out the adjacent New Mexico History Museum and the Palace of the Governors.
Walking Tours in Santa Fe, New Mexico