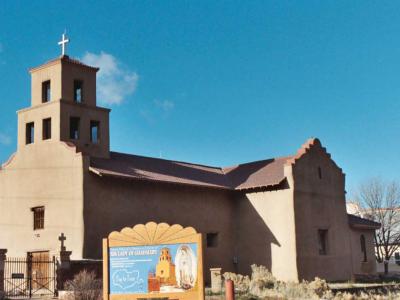 Santuario de Guadalupe (Shrine of Our Lady of Guadalupe), Santa Fe
The 'Shrine of Our Lady of Guadalupe' was built in the 1770s–it's the oldest shrine in the United States dedicated to the Virgin of Guadalupe. It was built to commemorate Mary's apparitions in 1531 to the Aztec peasant Juan Diego of Tepeyac. The Shrine, situated near the Santa Fe Plaza near the river, was placed near the end of El Camino Real from Mexico City.

Our Lady of Guadalupe, or Nuestra Señora de Guadalupe, is a Catholic title for the Virgin Mary. According to Catholic accounts, the Virgin Mary appeared before a Mexican farmer in 1531 five times. She told him to seek out the archbishop and build a church in her honor. The archbishop, who was suspicious of Juan Diego's claims, asked him to return to the hill where he saw the Virgin and ask for proof. After relaying the message to the Virgin, Juan Diego found non-native Castillian roses blooming on the barren hills of Tepeyac. The Virgin also appeared before Juan Diego's brother on his deathbed, miraculously healing him. The archbishop was duly convinced.

The Virgin became the patron saint of Mexico and is thoroughly intertwined with modern-day Mexican Catholicism.

Today the Shrine serves as a history and art museum. The Archdiocese of Santa Fe's collection of Italian Renaissance paintings, Mexican baroque paintings, and Santos are on display. The star of the collection, however, is a large full-body image of Our Lady of Guadalupe depicting the 1531 apparition story.
Santuario de Guadalupe (Shrine of Our Lady of Guadalupe) on Map
Walking Tours in Santa Fe, New Mexico