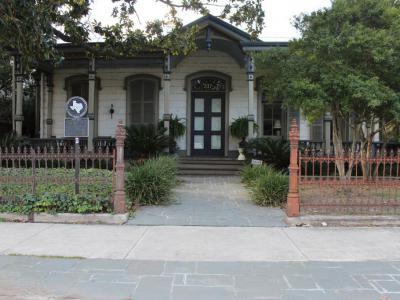 Sartor House, San Antonio
This gem of a house was designed by Alfred Giles for prominent jeweler Alexander Sartor, Jr. in 1881. Though best known for his larger commissions, Alfred Giles, the most popular architect in San Antonio at that time, also created some delightful small-scale works, such as this one.

While many of the homes in this area have highly decorative porches, the Sartor House is unique in its details that are well worth noting. An outstanding example of a typical San Antonio Victorian-era residence, this home features a wide front porch with street-front Italianate detailing which includes five large windows opening onto a handsome deep frame veranda. The soft caliche block walls are stuccoed to imitate ashlar masonry with protruding mortar joints. The central, front porch pediment with hanging pendant, that frames the front door, reflects the Gothic influence. Arched openings, dentil molding and decorative porch elements further mark the Victorian style.

A native of Germany, Sartor came to San Antonio in the mid-19th century. He was a popular watch repairman and had one of the first jewelry stores open in the city. Mr. Sartor lived in this house with his family until 1909. After he had sold the house, it was used for a variety of purposes, including a medical office and a literary studio.

From the 1950s, the house belonged to the Tobin Foundation and was used by the Family Welfare Association, and later as a guesthouse for Hemisfair visitors. In 1973, the property was sold again and underwent a thorough restoration. The new owner is said to have sold old jewelry and gold coins to buy the house. In the late 1970s, she added to it the ornate antique iron fence, a gift from her son-in-law.
Walking Tours in San Antonio, Texas