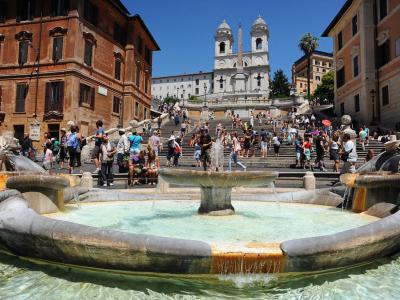 Scalinata di Trinita dei Monti (Spanish Steps), Rome
(must see)
The renowned Spanish Steps stand as an iconic attraction and popular meeting spot in Rome. Their name derives from the nearby Spanish Embassy, located in Piazza di Spagna. Constructed approximately 300 years ago, this staircase holds the distinction of being the longest and widest in Europe. It gracefully ascends to the exquisite 16th-century church famously known as the Trinity on the Mounts ("Trinità dei Monti").

Today, the Spanish Steps are frequented by tourists from around the globe. However, as early as the 18th century, they captivated artists, poets, and later Hollywood filmmakers. Consequently, the steps became a magnet for aspiring models, affluent Romans, international travelers, and people from all walks of life. The tradition of gathering at the Spanish Steps has become deeply ingrained in both the local Roman population and visitors to the Italian capital.

Situated at the base of the steps, to the right, lies the house-museum of John Keats, the renowned English Romantic poet who once resided there. Additionally, nearby is Babington's tea room, a resilient establishment that has withstood two world wars and numerous adversities, ultimately becoming a beloved tourist attraction.

***Movie "ROMAN HOLIDAY": Joe Meets Ann Again***
Fresh after haircut, Princess Ann sits on the steps, enjoying the view, eating gelato. After taking compliments for her new look, she confesses to Joe Bradley that she had run away from school and takes his proposal to spend the day together before she returns. And here the holiday begins!

Why You Should Visit:
If you appreciate historically rich and visually appealing locations, the Spanish Steps should undoubtedly be on your itinerary. Alongside tourist activities such as carriage rides, you'll find an array of shops and bars to explore. Most notably, the staircase offers picturesque views of Rome from its pinnacle, particularly at sunset—an unbeatable sight!

Tip:
The afternoon and later hours are the best time to visit so as to avoid the heat of the day.
Scalinata di Trinita dei Monti (Spanish Steps) on Map
Walking Tours in Rome, Italy
Useful Travel Guides for Planning Your Trip
---