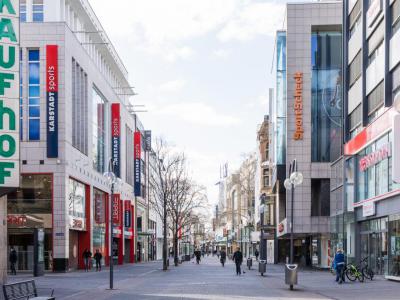 Schildergasse Shopping Street, Cologne
Schildergasse is Cologne's most visited shopping street and the busiest in Europe. According to a 2014 survey, 14,590 people walk the street every hour. Schildergasse is a pedestrian-only area and connects to High Street on its eastern end and the New Market on the western end.

Schildergasse dates to Roman times and was the Roman city's east to west street, or Decumanus Maximus. During the Middle Ages, the street housed many artists who painted coats of arms. The Schildergasse name originated from this time, as Schilder means signs.

The street features the Weltstadthaus, which looks like an enormous glass whale. The Weltstadthaus is home to the Peek & Cloppenburg clothing store. The impressive glass facade has 6800 individual panes.

Schildergasse has a variety of major department stores. Visitors will find H&M, Zara, and Galeria Kaufhof. In addition, there are shoe stores, fashion shops, sports shops, mobile phone shops, and perfume shops.

In addition to shops, the street is home to several landmarks. For example, visitors will find the Atoniterkirche, Cologne's oldest Protestant Church.

Why You Should Visit:
One of the most popular shopping streets in Europe, with seemingly endless possibilities to eat and drink, plus all the famous German, European and US brands.
Schildergasse Shopping Street on Map
Walking Tours in Cologne, Germany