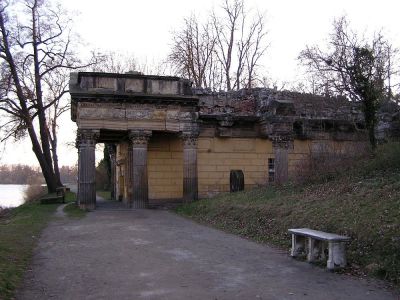 Schlosskueche (Palace Kitchen), Potsdam
The Schlosskueche, or Palace Kitchen, was added to the Sanssouci Palace after King Friedrich Wilhelm IV ascended to the throne in 1840. He and his wife, Elizabeth of Bavaria, spent summers at Sanssouci. The east wing of the palace was turned into a kitchen, bakery and a coffee maker's room. It also held the silver collection, which is now the location of the museum shop, and the pantry.

The Palace Kitchen used what was then a modern appliance known as the cooking machine. It allowed the staff, whose quarters were above the Palace Kitchen, to use heated portions of the machine rather than an open flame.

Visitors may now tour the Palace Kitchen where they will find the cooking machine alongside copper and porcelain dishes and baking trays. The Palace Kitchen is closed from November to March but stays open from 10 AM through 5:30 PM Tuesday through Sunday during the summer season.
Schlosskueche (Palace Kitchen) on Map
Walking Tours in Potsdam, Germany