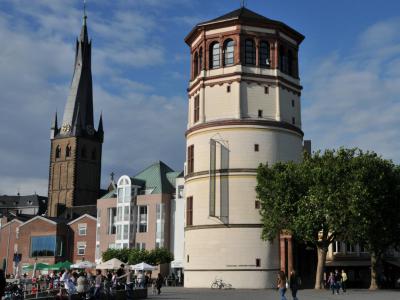 Schlossturm (Castle Tower), Dusseldorf
The Castle Tower is the only remaining portion of the Dusseldorf Castle. Dusseldorf Castle was originally built in 1260, and the tower's first three levels date to the 13th century.

Alessandro Pasqualini added the fourth level in 1552, which features a polygonal design with Tuscan columns. In 1845, King Friedrich Wilhelm IV commissioned architect Friedrich August Stuler to design the fifth level with a round arch style. In 1882, a tent roof was added.

Over the centuries, Dusseldorf Castle fell into disrepair and was mostly destroyed by a fire in 1872. The tower's wind vane represents a fire blower designed to commemorate the castle fire.

The Castle Tower now hosts the Rhine Maritime Museum, which focuses on Dusseldorf's water transport history. The exhibits feature ship replicas and interactive displays. In addition, visitors can get an excellent view of current Rhine river ships from the museum's top floor.
Schlossturm (Castle Tower) on Map
Walking Tours in Dusseldorf, Germany