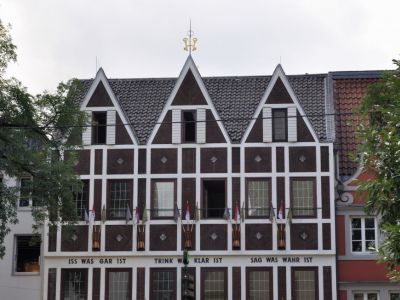 Schlüssel Brewery, Dusseldorf
Schlüssel Brewery is a brewery located in the heart of Duesseldorf. It occupies two houses on Bolkerstrasse, number 45 and 47. One of these dates to 1632 when it was called "Zu den drei Konigen" or, in English, "The Three Kings." The house was originally owned by Johann von Monheim.

The brewery was established in 1850 when Jakob Schwenger took ownership and opened a brewery and bakery. When brewer Josef Aders bought the place, he also purchased the house next door to create Schlüssel Brewery. It was inherited by Karl Gatzweiler in 1936 and has remained in the Gatzweiler family since that time.

Schlüssel, meaning "key," gets its name from the custom of keeping keys to the town gates in local public houses. Schlüssel Brewery is open daily from 10 am to 10 pm. The brewery remains open until midnight from Wednesday through Friday. Visitors can also take guided tours of the brewery on evenings and weekends. Advanced reservations are required.
Walking Tours in Dusseldorf, Germany