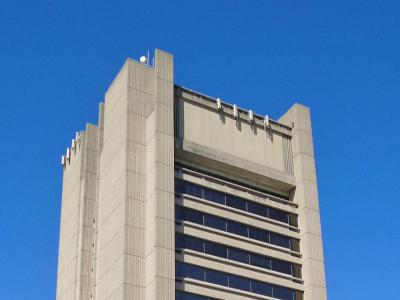 Sciences Library, Providence
In stark contrast with the surrounding cityscape, the Sciences Library building in Providence, Rhode Island stands out as a striking piece of architecture. Indeed, this is the first high-rise library in the world, soaring 180 feet (or 55 meters) high, which is currently the 16th-tallest building in the city. The main science library of Brown University, nicknamed the "SciLi", was built in 1971, in a Brutalist style, at the height of a wave of Brutalist architecture in the United States.

Clashing with late 19th-century and early 20th-century colonial revival houses and abutting street-level shopping on Thayer Street, the Sciences Library is often seen as an imposing and obtrusive addition to College Hill by critics of this style. Condemned as "overwhelming everything around it" and even compared to a Soviet-era Panelák, especially when observed from its "all-too-many distant viewing perspectives", this building, nonetheless, is a rare surviving example of what proponents of Brutalism consider the world's most endangered architectural style (given the loss of dozens of significant Brutalist buildings in the US in the 21st century).

Other than the library itself, the SciLi is also home to the Science Center, the Writing Center, the Center for Language Studies, the Map Collection, the Interlibrary Loan office, and the Friedman Study Center. The latter includes a variety of seating, a café on the first floor, new computer clusters, and collaborative study rooms. As for the Science Center, it houses academic mentoring and support programs, and serves as the campus clearinghouse for information about research and fellowship opportunities at Brown and around the world.
Sight description based on Wikipedia.
Walking Tours in Providence, Rhode Island