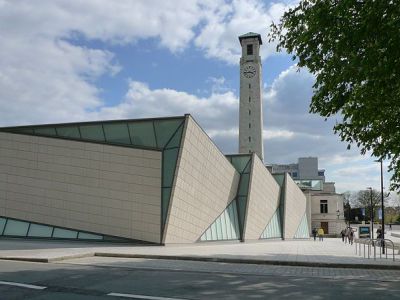 SeaCity Museum, Southampton
(must see)
SeaCity Museum opened on April 10, 2012, on the 100th anniversary of the Titanic's departure from Southampton. SeaCity Museum is housed in a building that was previously used as a court and police station.

The museum is home to two permanent exhibitions. One is focused on Southampton's place as a strategic shipping destination. The second permanent exhibition explores Southampton's connection to the RMS Titanic. An additional modern pavilion hosts temporary exhibitions. The Pavillion was newly constructed for the museum and features three interlocking bays which emulate a ship's bow.

The Gateway to the World exhibition focuses on Southampton as a vital shipping hub. The exhibition features a seven-meter-long Queen Mary replica.

Southampton's Titanic Story exhibition views the Titanic tragedy through the eyes of the ship's crew. Most of Titanic's crew listed Southampton as their home address. The exhibition features a courtroom with audiovisual elements to show scenes from the British inquiry into the tragedy.

The exhibition includes audio recordings from Titanic survivors. Interactive displays allow visitors to steer the ship or stoke its engines.

When visitors enter the exhibition, they are guided to view the civic center clock tower through a roof light. This clock tower is the approximate height of one of Titanic's four funnels and gives visitors a feeling for the massive scale of the doomed ship.
Walking Tours in Southampton, England