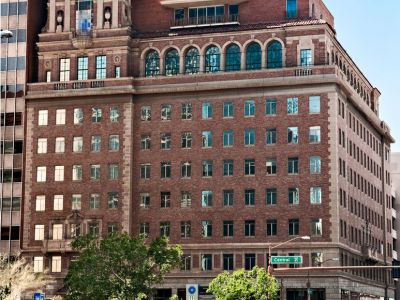 Security Building, Phoenix
The Security Building is a wonderful old historic location in downtown Phoenix. It also represents another triumph for the efforts of the city to make use of their historic buildings. Constructed in 1928, it is located at the intersection of Central Avenue and Van Buren Street. The easiest way to find this location is by looking for the Chase Tower, which is Arizona's tallest building. The two places are next to one another.

In 1928, the Security Building used to be the tallest structure in the state, so it was quite impressive for its day. The place was built by the Dwight B. Heard Investment Company. Heard was one of the most successful businessmen in Arizona, owning an investment company, a cattle company, and the Arizona Republican newspaper. Originally, this was the premiere office building for produce growers and law firms in Phoenix.

If you go to visit, make sure you look for the glass oval which sits atop the brick exterior of the building. At one time, it shot a beam of light into the sky that could be seen for 30 miles away on a clear night.

The Security Building was listed on the National Register of Historic Places in 1985.
Walking Tours in Phoenix, Arizona