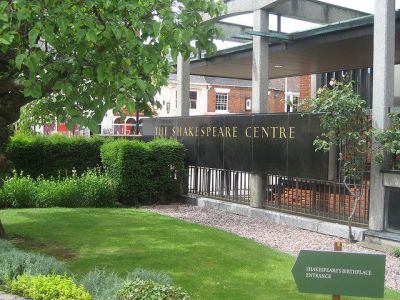 Shakespeare Center, Stratford-upon-Avon
The Shakespeare Birthplace Trust has mushroomed quite a bit since 1847 when the Trust acquired the Shakespeare Birthplace. The Trust was initially housed in the Birthplace but it soon began to acquire "stuff". Shakespeare related books, documents and manuscripts forced the Trust to successively move to other buildings close by.

By the late 1950s it was evident to all that an entirely new building was necessary. The focus would be on simplicity, with purpose connected to individual functions of different parts of the building. The building was officially opened on the 400th anniversary of Shakespeare's birth.

The Shakespeare Centre is used as a study center, public exhibition space, staff offices' library, archives and a reading room. below ground level there are safe rooms and climate controlled storage spaces.

The Centre will serve the administrative concerns of the staff and it is a center for Shakespeare studies. The Centre also has a Shakespeare-themed gift shop.
Shakespeare Center on Map
Walking Tours in Stratford-upon-Avon, England