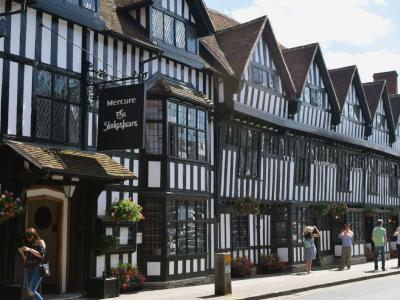 Shakespeare Hotel, Stratford-upon-Avon
Partially sited in one of the oldest (14th-century) and most attractive half-timbered buildings in Stratford-upon-Avon, the charming Shakespeare Hotel has long been a meeting place of writers, actors and artists in the heart of Shakespeare Country.

The hotel itself was established in the 16th century and changed its name to 'The Shakespeare' only in the 18th century – the first recorded exploitation of the Bard's name for tourist purposes.

As an object of national architectural and historical interest, this gabled inn has been preserved in its original state, thanks to a careful effort. Historic character prevails here everywhere, be it on the traditionally painted black-and-white façade and all the street frontage, or the low-beamed ceilings, huge stone fireplaces and enchantingly creaky floorboards on the inside.

The picturesque 4-star hotel offers 78 contemporary guestrooms, many of which are named after the plays and characters of William Shakespeare. The Bard himself (or rather the bust thereof) greets the arriving guests at the reception.

The historic inn is as alluring in winter as it is in summer. On a cold, damp day, catch the sight of The Quill lounge, with its vast fireplace, cosy armchairs and oil paintings on the wall, and you may well find yourself inside before you even know it, sipping afternoon tea.
Walking Tours in Stratford-upon-Avon, England