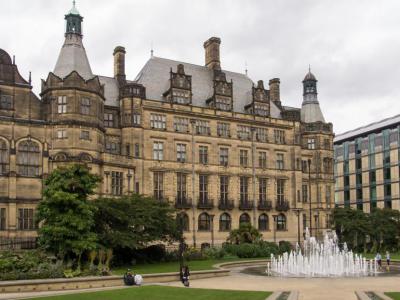 Sheffield Town Hall, Sheffield
(must see)
On a bright May morning in 1897, Queen Victoria was waiting in her carriage. Her hand was poised over a remote control lock. At a signal, she turned a key in the lock. A window of the new Town Hall of Sheffield lit up, and three men opened the Town Hall gates. The new Sheffield Town Hall in England was officially open for business.

The New Town Hall is a replacement for the Old Town Hall, which still stands, unused on Castle Market to the north. Queen Victoria's New Town Hall, home of the City Council, is on Pinstone Street. This Town Hall is the fourth one for Sheffield, designed by architect Edward W. Mountford in the Renaissance Revival style.

The architecture resonated with the style of neighboring St. Paul's Church of 1720 since being demolished. The exterior is of Stoke stone adorned with friezes of the industries of Sheffield. The 210-foot clock tower is topped with a statue of the god Vulcan. There are no bells. The bell sounds of the tower are electronic.

Inside there is a memorial to the HMS Sheffield, a warship lost in the Falklands War. Beyond the entrance is a grand marble staircase. Friezes on the walls celebrate the killing of the legendary Dragon of Wantley. On the first floor are an oak-paneled gallery, the Lord Mayor's Parlour, Council Room, and an antechamber.

Above the antechamber door is the Bible quote: "Be ye wise as serpents and harmless as doves." Ships, dragons, serpents, and doves; all that in the Sheffield Town Hall.
Sheffield Town Hall on Map
Walking Tours in Sheffield, England