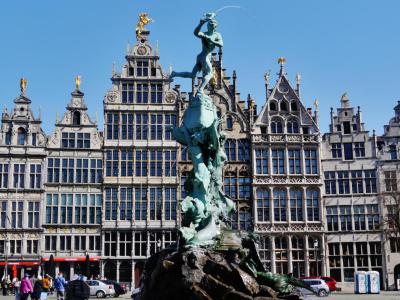 Silvius Brabo Statue, Antwerp
The Silvius Brabo statue is located at Oude Beurs 4 in the city of Antwerp and stands right in front of the Antwerp City Hall. The statue is the result of the mythological story that is believed to give the city its name.

Legend has it that a giant named Druon Antigoon lived near the bridge over the river Scheldt. The giant would forcibly charge the people for using the bridge or else would cut off hands of people who either could not or refused to pay him. According to the story, Silvius Brabo was a Roman soldier who came to the city. Antigoon's restrictions over using the bridge on the Scheldt were hurting the city's business and therefore, Brabo decided to bring an end to Antigoon's tyranny. Brabo killed Antigoon and as a fitting reply to his oppression, tossed the giant's hand into the river. The statue in front of the City Hall captures the moment when the brave Brabo was about to throw away the giant's hand. The name Antwerp is corruption of 'An twerp' or hand throwing committed by Brabo. The term 'Brabant' is also believed to have originated with Brabo.

You can enjoy the statue while relishing a coffee on one of the café terraces located in the area.
Silvius Brabo Statue on Map
Walking Tours in Antwerp, Belgium