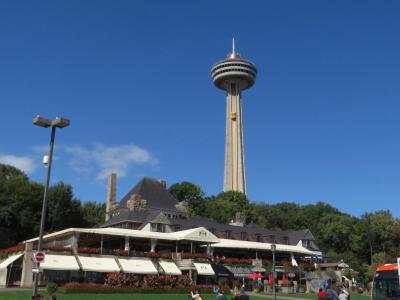 Skylon Tower, Niagara Falls
(must see)
The Skylon Tower is an observation tower that overlooks both the American Falls, New York and the larger Horseshoe Falls, Ontario from the Canadian side of the Niagara River. Construction of the Skylon began in May 1964 and was officially opened October 6, 1965 by New York Governor Nelson Rockefeller and Ontario Premier John Robarts. Standing at 160 metres (520 ft) from street level and 236 metres (775 ft) from the bottom of the falls, the tower required approval from both Canadian and United States air transport authorities, due to its proximity to the international boundary.

It was the second tower to be built using the slipform method, in which concrete is continually poured into a form moving slowly up the tower. The tower features three outside mounted "Yellow Bug" elevators. The tower has two restaurants at its top, the lower Revolving Dining Room and the upper Summit Suite Buffet. The Revolving Dining Room seats 276 people and revolves once every hour by resting on a circular rail that is propelled by a 3 horsepower (2.2 kW) motor. An observation deck sits at the tower's summit. The base of the tower features a number of gift shops, fast food restaurants and a large amusement arcade.

The Skylon Tower is seen in Superman II. It is also used as a police lookout in the 1979 film Search and Destroy starring Perry King and George Kennedy.
Sight description based on wikipedia
Walking Tours in Niagara Falls, Ontario