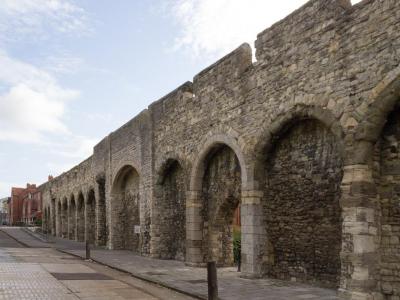 Southampton Town Wall, Southampton
(must see)
Southampton has had some defensive structures since occupied by the Romans. French forces attacked Southampton in 1338. However, the defenses were not adequate.

Work on the new wall began in the 1360s. Eventually, the wall was 1.25 miles long and wholly enclosed Southampton. The impressive wall housed 29 towers and eight gates. The towers were built to house cannons, which was a new technology in the 1300s.

The walls were used for defense throughout the 15th century. By the 18th century, the walls and gatehouses fell into disrepair. More recently, efforts have been made to preserve these historic walls.

Today, about half of the length of the original walls is still visible. Only 13 of the original 29 towers and six of the original gates still stand. God's House Tower still stands and is one of the first urban buildings to be purpose-built to hold gunpowder weapons. God's House Tower is three stories high and is next to God's House Gate.

Arundel tower still stands and is a popular attraction. The west walls are home to a unique feature called The Arcades. They are a series of arches built in the 14th century to reinforce the original 12th and 13th-century walls.
Southampton Town Wall on Map
Walking Tours in Southampton, England