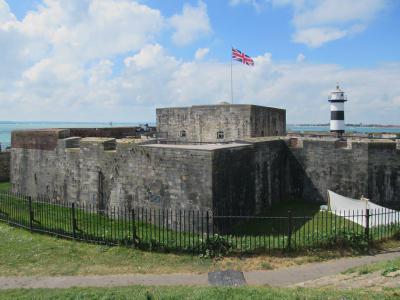 Southsea Castle, Portsmouth
Built in 1544 on the orders of Henry VIII, Southsea Castle, also Portsea Castle, was constructed on Portsea Island. Most of the city of Portsmouth was located on Portsea Island, and Portsmouth was a target. England was at war with France. It all started over Henry's divorce from Catherine, which turned out rather messy.

France was attempting to invade. Southsea Castle was a fortified artillery post, one of several defending the Solent and the Isle of Wight. It had a square keep in the center, two rectangular gun stations, east and west, and two bastions. The bastions were laid out angularly in the Italian polygonal style called "trace Italienne."

Henry visited the Southsea Castle during the Battle of the Solent in 1545. The fort served its purpose, but Henry lost his favorite warship, the Mary Rose. The castle saw further action in the civil war in 1642. In the 1680s, the fortifications were expanded by Dutch military engineer Sir Bernard de Gomme.

Additional batteries were installed in the 1850s. The castle saw action in the two world wars. Absolete in 1960, it was sold to the Portsmouth City Council. In 1967 it became a museum, but its lighthouse remained in service. The Southsea Castle is a Scheduled Ancient Monument under UK law.
Walking Tours in Portsmouth, England