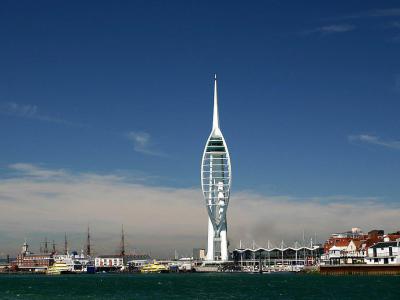 Spinnaker Tower, Portsmouth
(must see)
Spinnaker Tower is the centrepiece of the redevelopment of Portsmouth Harbour, which was supported by a National Lottery grant. Its shape was chosen by Portsmouth residents from a selection. The tower, designed by local firm HGP Architects and the engineering consultants Scott Wilson and built by Mowlem, reflects Portsmouth's maritime history by being modelled after a sail. After several years of delays and cost overruns, it was opened on 18 October 2005.

Planning began in 2000, and construction began 2001, and was completed in mid-2005, due to repeated delays and extra funding requests by the builders Mowlem. This was six years later than the planned opening date of 1999, chosen to coincide with Millennium celebrations. The tower, at a height of 170 m above sea level, is 2.1⁄2 times as high as Nelson's Column, making it the tallest accessible structure in the United Kingdom outside London. The tower is visible for miles around Portsmouth, changing the horizon of the area. It can be seen from the Isle of Wight, and even the Manhood Peninsula.

The tower represents sails billowing in the wind, a design accomplished using two large, white, sweeping steel arcs, which give the tower its spinnaker sail design. The steelwork was fabricated by Butterley Engineering. At the top is a triple observation deck, providing a 350° view of the city of Portsmouth, the Langstone and Portsmouth harbours, and a viewing distance of 37 kilometres (23 mi).
Sight description based on wikipedia
Walking Tours in Portsmouth, England