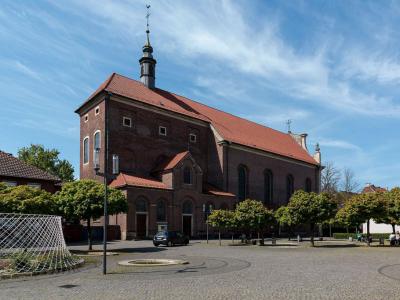 St. Aegidii Church, Munster
St. Aegidii Church, alike St. Ludgeri, is one of the oldest parishes in Münster. It dates back to the end of the 12th century and is located in the historical center of the city. The first parish of St. Aegidii was established in 1174, and there is documented evidence of its existence during this early period. In 1184, the church was used as the base for the first Cistercians Monastery in Westphalia.

In 1821, this church collapsed and was demolished to be rebuilt 100 meters further to the east in pure Classicism style. The construction process was planned and controlled by the German architect, Johann Conrad Schlaun on the request of the Capuchin Parish.

The St. Aegidii Church is a hall church made of exposed brickwork with an attached ridge turret. Only the Baumberger sandstone facade experienced a greater architectural expression, which differs from Schlaun's first church building of the same order, the Kapuzinerkirche Brakel, in that it has a more developed frame system. In particular, the gable attachment now has a more elegant formulation compared to Brakel. The only decorative element used is a portal developed over a concave floor plan, whose broken segmental gable shows the donor coat of arms of the Plettenberg family.

The interior of the church is designed as a four-bay hall with a recessed rectangular choir, to which the psallier's choir is attached at the back.
Sight description based on Wikipedia.
St. Aegidii Church on Map
Walking Tours in Munster, Germany