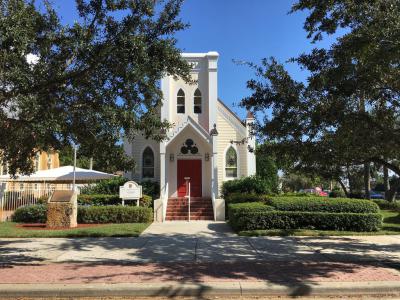 St Ann Catholic Church, West Palm Beach
Located on North Olive Avenue, St. Ann's Catholic Church is the oldest Catholic Church in the Diocese of Palm Beach. It was established in 1896 by the Fathers of the Society of Jesus and moved to its current location, from the southeast corner of Rosemary and Datura Streets, to North Olive Avenue in 1902. The church is home to the St. Ann's Catholic School that opened in 1923.

St. Ann's has several programs that serve the community. The church has an outreach center that helps homeless men and women by giving them breakfast and lunch, housing assistance, healthcare services, and job support assistance. They also have a food pantry, a substance abuse ministry, and a hospital ministry.

The place of worship offers many interesting events for its parishioners. Fish fries, book readings, Soup and the Sunday Scriptures, and retreats are a frequent occurrence. A family mass, which is targeted to the younger generation, is celebrated on the first Sunday of each month.
St Ann Catholic Church on Map
Walking Tours in West Palm Beach, Florida