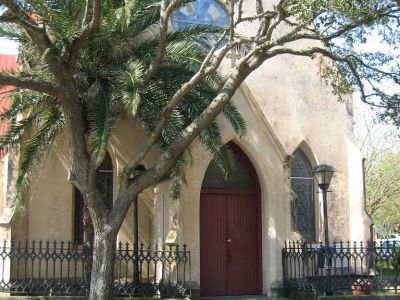 St. John's Reformed Episcopal Church, Charleston
The building of the St. John's Reformed Episcopal Church was constructed 1850 and modifications carried out in 1887. The original church on this site served slave and free black Presbyterians, Irish Catholics, and, later African American Reformed Episcopalians.

The black Presbyterians constructed the building as the Anson Street Chapel for the black members in community. The church building was heavily damaged by shells in the siege of Charleston and it was repaired in 1866. The chancel, roof, and interior were rebuilt, and transepts, a Gothic ceiling, and 14 stained glass windows were added in 1883.

St. John's Reformed congregation acquired the property in early 1970s and has occupied it since then. The St. John's congregation has retained most of the structure's interior features, including stenciled decoration and gilded Gothic elements.

Today St. John's Reformed Episcopal Church still has its old charm and is very active within the community.
St. John's Reformed Episcopal Church on Map
Walking Tours in Charleston, South Carolina