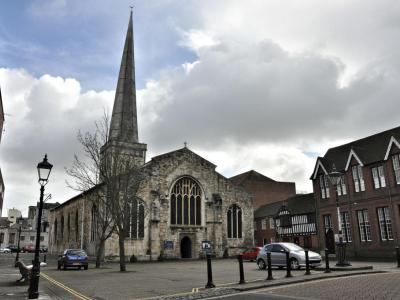 St. Michael's Church, Southampton
This impressive church is Southampton's oldest building still in use. St. Michael's Chruch was founded in 1070. Henry II gave the church to the monks of St. Denys, who administered the church until the 1537 Dissolution.

St. Michael's was enlarged during the 13th century as Southampton prospered. The first spire was added in the 15th century and renovated with an additional 9 feet in 1887. The spire is now 165 feet high.

While much of Southhampton was damaged during WWII, the church and spire escaped significant damage.

The East Window depicts Southampton's five medieval churches. Unfortunately, St. Michael's is the only one still standing. The West Window portrays St. Michael killing the dragon.

The unique font dates to the 12th century and was created from a single block of black marble.

One of the brass lecterns was rescued from Holyrood Church. This pulpit dates to the 14th or 15th century and is the most impressive in England. It depicts an eagle with separated wing feathers.

St. Michael's church is home to several tombs. The most famous tomb belongs to Sir Richard Lyster, who was the chief justice of the King's Bench. He was interred here in 1554.
St. Michael's Church on Map
Walking Tours in Southampton, England