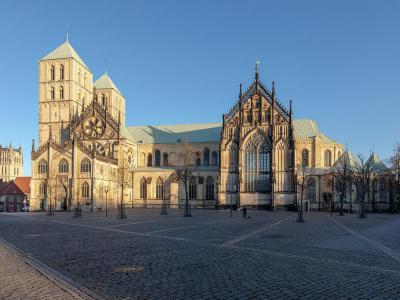 St. Paulus Dom (Munster Cathedral), Munster
(must see)
In the heart of this German city, you'll find Munster Cathedral, known as St. Paulus Dom (The Cathedral Church of Saint Paul). This Catholic church features mainly Gothic architecture, constructed in the 13th century. There are two large Romanesque-style towers preserved from an earlier cathedral that was located at this site. The towers are topped with copper-covered pyramids.

The church interior features a central nave surrounded by two side aisles. As you enter, you'll be greeted by a sizable statue of St. Christopher, the patron saint of travelers, standing on a pillar on one side of the nave. This sculpture dates from 1627. The Old Choir (Alte Chor) boasts a Baroque-style high altar that sits below round decorative windows. Underneath the Old Choir are tombs of the bishops.

Don't miss the superb astronomical clock, one of the most famous and intriguing features of the cathedral's interior. Built between 1540 and 1542, it has a 24-hour clock face, runs counterclockwise, and displays astronomical information such as the moon's phases and the positions of the planets. There are also three organs inside the church and some marvelous stained-glass windows.

Bombing during World War II caused considerable damage to the cathedral. A rebuilding of the structure to bring it back to its original appearance took place in the decade following the war. An extensive restoration also took place in the 21st century, completed in 2013.

Today, this beautiful cathedral offers regular church services and public tours. In front of Munster Cathedral is Cathedral Square (Domplatz), a vast public square paved in cobblestone bricks. The Weekly Market (Wochenmarkt), a vibrant farmer's market, is held twice weekly (Wednesday and Saturday) in the cathedral square.
St. Paulus Dom (Munster Cathedral) on Map
Walking Tours in Munster, Germany