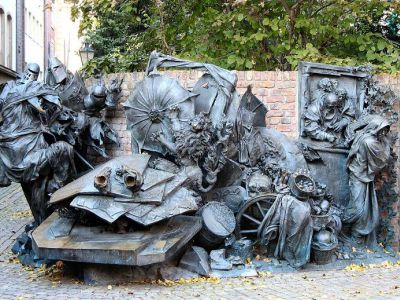 Stadterhebungs Monument (City Founding Monument), Dusseldorf
The City Founding Monument was created in 1988 to celebrate Dusseldorf's 700th anniversary. Bert Gerresheim crafted the bronze monument that depicts important scenes from Dusseldorf's history. The monument shows the Battle of Worringen, the city's original deed, and celebrates Saint Lambertus church.

The Battle of Worringen was fought on the 5th of June 1288 near the town of Worringen, which is now the northernmost borough of Cologne. Dusseldorf and Cologne residents fought against the Archbishop of Cologne's army during this battle. It was one of the largest battles in Europe in the Middle Ages and over 1100 people died during the battle. The Archbishop of Cologne was defeated.

After the battle, Count Adolf von Berg granted the Dusseldorf city charter. Cologne gained its independence from the Archbishopric after this decisive battle and finally became a free imperial city in 1475.

The monument's helmets and breastplates represent the famous 1288 battle. The cart represents Dusseldorf's market rights. The monument also shows the original town survey.

The bronze monument is very detailed and has many artistic layers. Visitors can gain an appreciation of the city's long history and storied birth.
Stadterhebungs Monument (City Founding Monument) on Map
Walking Tours in Dusseldorf, Germany