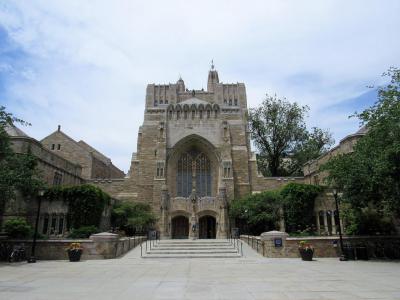 Sterling Memorial Library, New Haven
Sterling Memorial Library is the largest library at Yale University, containing over 4 million volumes. It is an example of Gothic revival architecture, designed by James Gamble Rogers, adorned with thousands of panes of stained glass created by G. Owen Bonawit. The Library has 15 levels, each with its own category of books.

In 1971, the adjoining underground Cross Campus Library was built. It was renovated and renamed to Bass Library in 2007 and connects to Sterling via an underground tunnel. Bass Library currently contains an additional 150,000 volumes. Although the original architect, Bertram Goodhue, originally intended Sterling to be taller and resemble the State Capitol Building in Lincoln, Nebraska, plans changed under the new architect James Gamble Rogers.

The main entrance of library is adorned with symbols and writings in various ancient languages, the work of architectural sculptor Rene Paul Chambellan who executed the designs produced by Lee Lawrie. The rest of the sculptures throughout the library; gargoyles and interior panels and ornamental designs were designed and executed by Rene Chambellan. The Nave is decorated with marble reliefs depicting Yale's founding and the history of New Haven and Connecticut.

The most famous detail about the construction of the library, however, is its windows. In total, there are some 3,300 hand-decorated windows in the library. They depict everything from fiction to history and even small insects on otherwise unadorned panes created to look real. In 2000, one former librarian published a book about the windows.

Operation hours: Monday to Friday: 8.30 am - 5 pm; Saturday: 10 am - 2 pm; Sunday: 1 pm - 5 pm.
Sight description based on Wikipedia.
Sterling Memorial Library on Map
Walking Tours in New Haven, Connecticut