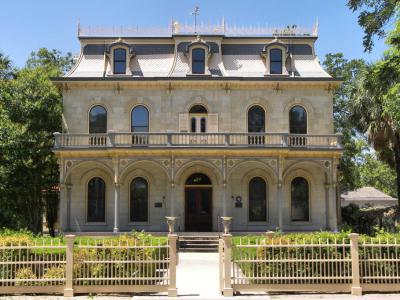 Steves Homestead Museum, San Antonio
The Edward Steves Homestead is the showcase of an immense wealth that was amassed by lumber baron Edward Steves, founder of the Steves Lumber Company, who immigrated to Texas from Germany in 1849. The homestead incorporates an elegant three-story mansion with a concave mansard roof decorated in iron cresting, which is characteristic of the French Second Empire and the Italian Villa styles, plus some out buildings. Made of ashlar limestone (which means "precisely cut and finished", also known to masons as "peck work"), the Steves mansion was built in 1876, possibly to the design by Alfred Giles, the prominent San Antonio architect.

As for the homestead's out buildings, they include The River House, a one-story brick structure at the rear of the Homestead property, which held one of the earliest natatoriums, or indoor swimming pools, in San Antonio. This brick-lined bit of luxury used to be filled with water from the artesian well located on the property. Mrs. Steves is said to have swam there every day, at two o'clock, regardless of the weather.

To hold storage during the homestead construction, the two-story frame and stone Carriage House was built in 1875, a year before the mansion itself. Thoroughly restored in 1976-1977, the Carriage House still provides storage for the Edward Steves Homestead today.

Once the mansion was complete, servants' quarters were necessary to house the full-time gardener and a "stable boy" who worked for the Steves family. This was built around 1877. The Servants Quarters was restored in 1983-84 and currently serves as a Visitors Center, where tickets are sold and tours originate.

Listed on the National Register of Historic Places, the homestead remained a family residence until 1952 when Steves' descendants donated it to the San Antonio Conservation Society who then turned it into a museum in 1954. Visiting this museum today makes one feel back in time at least hundred years.
Steves Homestead Museum on Map
Walking Tours in San Antonio, Texas