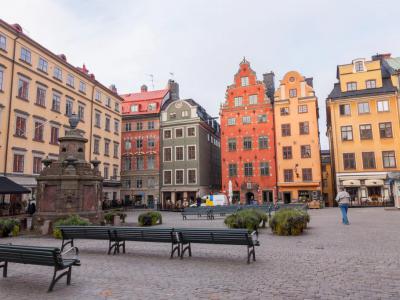 Stortorget (Grand Square), Stockholm
(must see)
Stortorget ("Grand Square") in Gamla Stan was never a stylish show-piece similar to the ones found in the heart of many other European cities during the Middle Ages. It was created gradually, with buildings and blocks surrounding the square, still sloping west, occasionally added haphazardly. The city's oldest square, Stortorget is an artistic and shopping hub, traditionally renowned for its annual Christmas market offering incredible performances, unique traditional handicrafts and sumptuous culinary delights.

It is also the location of the Stock Exchange Building (Börshuset), home to the Swedish Academy, the Nobel Museum, and the Nobel Library, designed by Erik Palmstedt and built in 1773–1776. The nearby well, also designed by Palmstedt, dried up in 1856 due to land elevation, and was relocated to Brunkebergstorg, but then moved back to the original location in the 1950s, connected to the city water conduit ever since.

Stortorget sits at the highest point in Stockholm and presents a carefully restored rendition of the historical buildings, known only by their addresses. Among them are Stortorget No. 3 constructed in the 1640s, commonly known as Grillska Huset (Grill House). The nearby building No. 5 was another real estate of Antoni Grill, after whom the Grill House is named. The buildings at No. 18–20 were merged into one in the 17th century and named for Johan Eberhard Schantz. Stortorget had a violent history, as it once was the location of the Stockholm Bloodbath, which took place in 1520 and resulted in the beheadings of over 80 noblemen. Their bodies were left there to bleed out, leaving pools of blood running throughout the town, a ghoulish message to the Danish King's opposition.

Stortorget No. 22, on the left side of the square, was built in 1758 and is easily identified by its green color. It was once occupied by the Saxon Polycarpus Crumbügel, who was one of the closest friends of King Charles XI. The antique cobble stones of Stortorget make you feel like stepping back into the times of Old Sweden, with the pastel buildings mimicking the colors commonplace in those days.

Why You Should Visit:
The Old Town (Gamla stan) is by far the most picturesque area in Stockholm, and while this square seems unpretentious at first sight, it has a unique ambiance.

Tip:
Make sure to stand in the middle and look all around you.
Stortorget (Grand Square) on Map
Walking Tours in Stockholm, Sweden
Useful Travel Guides for Planning Your Trip
---