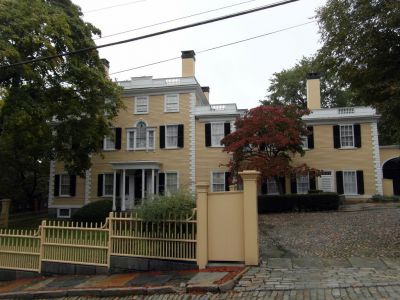 Sullivan Dorr House, Providence
The Sullivan Dorr House was built in 1809 by architect John Holden Greene on the original burial site of Roger Williams, the founder of Providence. The home, located at 109 Benefit Street, is a combination of architectural styles known as Strawberry Hill Gothic. This style is a combination of Georgian, Gothic and Palladian techniques to create an entirely unique-looking home.

The home was built for shipping magnate Sullivan Dorr and his wife, Lydia Allen. The main section of the home is three stories with two-story wings on each side. Those passing by will also notice that the covered entrance is surrounded by slender, Gothic columns. A servants' quarters and barn were built at the same time as the home.

The Sullivan Dorr House was given to the Providence Preservation Society by Dorr's great granddaughter, Margarethe Lyman Dwight, in 1956. It was the first home preserved by the society. Today, the house is more than 6,000 square feet with nine bedrooms and six bathrooms. The former carriage house has been converted into a garage.
Sullivan Dorr House on Map
Walking Tours in Providence, Rhode Island