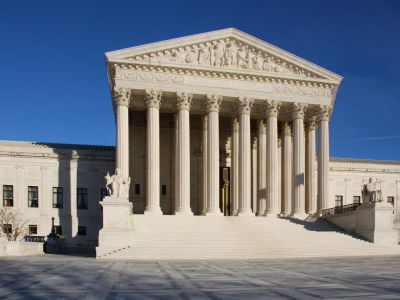 Supreme Court, Washington D.C.
The Supreme Court of the United States is located just east of the United States Capitol, and its oversight falls under the Architect of the Capitol. It received the distinction of being designated a National Historic Landmark on May 4, 1987.

The Supreme Court Building was designed by architect Cass Gilbert and stands four stories tall (92 feet) above ground. Construction began on October 13, 1932, and was completed in 1935, staying within the budget of $9.74 million authorized by Congress, with a total cost of $94,000. It was designed to reflect the importance and dignity of the Court and the Judiciary as an equal and independent branch of the U.S. government, serving as a symbol of the national ideal of justice at the highest level.

The public-facing façade of the Supreme Court Building is constructed from marble quarried in Vermont, while the courtyards facing the interior are made of Georgian marble. Most of the interior spaces are adorned with Alabama marble, except for the Courtroom itself, which is decorated with Spanish ivory vein marble. For the 24 columns in the Courtroom, architect Gilbert specifically chose ivory buff and golden marble from the Montarrenti quarries near Siena, Italy.

The west façade of the building, which faces the Capitol and is essentially the "front" of the court, features the motto "Equal Justice Under Law," while the east façade carries the motto "Justice, the Guardian of Liberty."
Walking Tours in Washington D.C., USA
Useful Travel Guides for Planning Your Trip
---