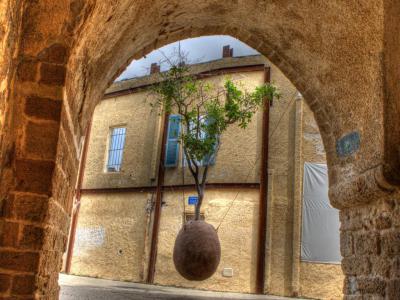 Suspended Orange Tree, Tel Aviv
Jaffa has a long and very interesting history in relation to oranges – especially in the mid-19th century and before the 1970s, when they became emblems of the Israeli state, having also lent the city of Tel Aviv-Yafo the nickname "Big Orange". A walk through Old Jaffa, therefore, has to either start, end, or contain passing by this homage to what was – with the new Jaffa on one side and its walls and beginnings in the opposite direction.

The work of Israeli artist Ran Morin, this unusual, interesting and photogenic city landmark titled "Orange Suspendu" was completed in November 1993 as one of many involving full-sized trees. Hung by wires from the walls of nearby houses at about one meter above ground, in an entranceway to a cobblestone path leading to galleries and art studios, this tree is alive (due to a discreet drip system) and even puts forth fruit during harvesting season – look closely and be convinced!

According to Morin, his work of art represents the juxtaposition of man and nature. Symbolically, however, some see it as an ode to an agricultural product that became synonymous with the area and ultimately helped with the rebirth of Israel – a triumph over sand and wasted lands. In a way, it also mirrors the situation of Palestinians who inhabit Israel, as they have to grow in suspension, like this orange tree.

Tip:
Nearby (walk 10 meters through the arch) is a gallery for the sculptor Frank Meisler, famous for his metal creations, and you can certainly spend a couple of hours roaming the other beautiful galleries around.
Suspended Orange Tree on Map
Walking Tours in Tel Aviv, Israel