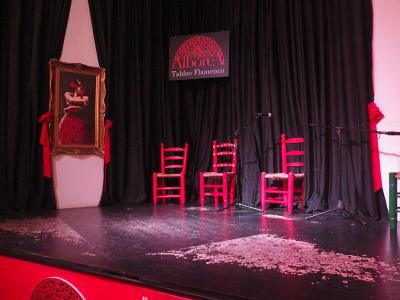 Tablao Flamenco La Alborea, Granada
(must see)
The mission of the Tablao Flamenco La Alborea is to deliver the unique dance experience called Flamenco to Granada. Located in the Plaza Nueva, it is easily accessible by foot from any place in the old city. One hour flamenco shows are presented by four artists. Seating is available by the stage or in the balcony. The acoustics are great.

A one hour show will consist of a singer, a guitarist, a bailaor or bailaora. Often the artists will be from the Sacromonte, one of the six districts of Albaicin.

In the dance there are five elements: cante (singing), Baile (dance), guitarra (guitar), palmas (hand clapping), jaleo (a call, like "ole!"). There is also a festero or festera, the one who is "throwing the party." The flamenco is performed on a tablao, a small stage usually of wood. The wood enhances the sounds of heels stamping in the dance.

The flamenco is gypsy in origin. During the Franco era in Spain, the flamenco was changed to become more sensual. Many aficianados feel this has had a corrupting effect on the dance itself, making it less genuine.
Tablao Flamenco La Alborea on Map
Walking Tours in Granada, Spain