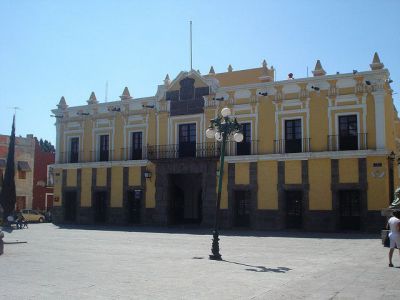 Teatro Principal (Main Theater), Puebla
Puebla's Teatro Principal is the oldest active theater in the Americas. It was originally known as Corral de Comedias, and later as Antiguo Coliseo.

The history of theater in Puebla began in the early 17th century. Back then, a carpenter and theatrical enthusiast Juan Gómez Melgarejo built the first theater in town, called Corral de Comedias. In 1613, however, the city mayor ordered its suspension and ultimately destruction.

Prominent patrons of Melgarejo's challenged the decision with the Viceroy of New Spain, Rodrigo Pacheco y Osorio, Marquis of Cerralbo, who eventually granted the license for and authorized the construction of a new venue, in 1626. The construction process, slowed down by the lack of funds, epidemics, droughts and other calamities, lasted until 1759.

By that time, the impatience of theater-goers was so great that, as soon as the stage was completed, performances began almost immediately, with people bringing their own chairs to sit on and watch the show. The new Corral de Comedias was finally inaugurated in 1761.

The theater's ceiling was painted by the famous Pueblan painter, Miguel Jerónimo de Zendejas, featuring mythological figures of Apollo and Talía, Puebla's emblem granted to the city by Carlos V, and the Latin inscription translated as "Good art ennobles the people."

In 1902, the building suffered damage from fire, and was fully restored only in 1940.

Nowadays, alongside theatrical plays, the venue is used for opera, dance, concerts, variety shows, festivals, children's matinees, conferences, assemblies and other events. When not in use, the place is open for visits between 10am and 5pm.
Sight description based on Wikipedia.
Teatro Principal (Main Theater) on Map
Walking Tours in Puebla, Mexico