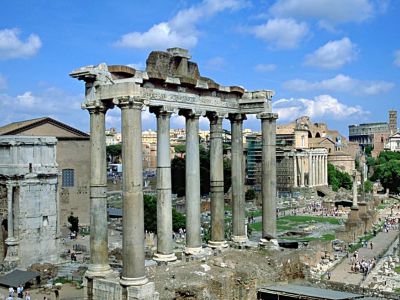 Tempio di Saturno (Temple of Saturn), Rome
The Temple of Saturn is, without a doubt, the most iconic structure on the Roman Forum, with its monumental columns being the postcard image of the legendary ruins. It sits at the base of the Capitoline Hill, next to the Arch of Septimius Severus.

The history of the temple starts in the 5th century BC when it was built by Tarquinius, the last king of the city-state of Rome prior to the rebellion that led to the establishment of the Roman Republic. The structure endured several modifications since and what we see today is the latest restoration following the devastating fire that took place in the 3rd century BC.

The Temple of Saturn is known for its iconic front portico, featuring eight majestic Ionic columns that once supported a pediment and a frieze. Today, the inscribed architrave remains intact, reading "The Senate and People of Rome restored what fire had consumed." This not only testifies to the building's resilient history but also reflects the collective responsibility of Roman society.

After serving as a temple of Saturn, the building then housed, at some point, a bank, which is only logical given that Saturn was the god of wealth and abundance. The Romans also worshiped him as the god of agriculture. Later, as they embraced the Greek pantheon of gods, Saturn was identified with Kronos and became the highest ranking of the Roman deities, at par with Jupiter.

The temple was also central to the festivities of Saturnalia, a popular mid-December festival that inverted social roles and norms, marking a time of celebration and revelry in honor of the deity Saturn. The final day of the festival, known as the day of "the invincible sun", fell upon December 25. The festival involved lavish feasting and exchange of gifts, quite similar to the contemporary Christmas tradition.

Opening Hours:
Daily: 8:30am-4:30pm (Jan 2–Feb 15); 8:30am-5pm (Feb 16–Mar 15); 8:30am-5:30pm (Mar 16–last Sat of March); 8:30am-7:15pm (last Sun of March–Aug 31); 8:30am-7pm (Sep 1–30); 8:30am-6:30pm (Oct 1–last Sat of Oct); 8:30am-4:30pm (last Sun of Oct–Dec 31)
Last admission always one hour before closing time. CLOSED: Dec 25, Jan 1.
Tempio di Saturno (Temple of Saturn) on Map
Walking Tours in Rome, Italy
Useful Travel Guides for Planning Your Trip
---